Woodland on your doorstep
20-09-2006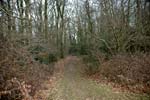 Woodlands for sale throughout the UK. Call
01727 701641
for current availability in your area.
Vantage Land
01727 701641
www.vantageland.co.uk
It can be easy to forget that miles of greenery exist on your urban door step.
The Green Chain network is a series of green areas in South East London stretching from Crystal Palace in the east to the River Thames at Erith, and from the Thames barrier south to Chislehurst with 40 miles of footpaths in between.
The Green Chain Walking Festival, which began last Saturday, aims to highlight what's on offer for the urban rambler.
The festival was launched by Railway Children actress Jenny Agutter and heralded a week-long series of events to celebrate the famous 40-mile route.
Organised by the Green Chain Festival Steering Group, there are more than 50 events taking place along the paths that criss-cross South-east London.
They all take place around the 300 open spaces of woodland, commons, parks and recreation grounds linked by the signposted walking network.
The events offer something for all ages and abilities - from walks and rambles to conservation projects and local history talks, as well as lots of activities for kids like a survey of fresh-water invertebrates in the River Ravensbourne.
Cllr Rajwant Sidhu, cabinet member for a Greener Greenwich, said: "The Green Chain Walk is yet another of the many attractions which make Greenwich a must-see destination.
"The festival celebrates the many features of the walk and it's an ideal time to learn more about the 40-mile route and to meet others who help to maintain it."
The Green Chain can be accessed at any time of the year - log on to www.greenchain.com for further information.
Get the latest woodland news direct to your desktop with the Woodland Owner RSS feed

.