BT plants more than 250,000 saplings
01-05-2007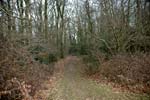 Woodlands for sale throughout the UK. Call
01727 701641
for current availability in your area.
Vantage Land
01727 701641
www.vantageland.co.uk
BT is hoping to saving paper and go green by switching more than one million customers over to online billing by the end of the month. Customers who sign up to the service are helping to wipe out the use of 60 tonnes of paper each year.
The telco has a planted more than 250,000 saplings - covering the equivalent of 250 football pitches - across the UK.
Since partnering with the Woodland Trust in 2005, BT has long been pushing paper-free billing, having pledged to plant a native sapling for every customer that signed up to the new online service.
Sue Holden, chief executive of the Woodland Trust, added: 'This is a great example of how companies, consumers and charities can work together: we're limiting our impact on the environment by cutting down on paper, and taking a positive action to reduce it further. The UK is way behind the rest of Europe when it comes to woodland cover, so it's important that we plant more trees.
'On an international scale, the UN made a plea for a billion trees to be planted as part of a global action to address climate change, encouraging everyone to make a pledge to plant a tree. Here's just one way companies can encourage their customers to contribute.'
Get the latest woodland news direct to your desktop with the Woodland Owner RSS feed

.